Do you know how to save your losing stock trades using options?
Today SlashTraders will show you how to sell Covered Calls to hedge against your stocks. So you can earn a premium from selling options to reduce the cost basis of your stocks.
We will also share with you a few drawbacks of the Covered Calls, so you know when not to trade them.
What Is a Covered Call?
A Covered Call is an options trading strategy that hedges against a long stock position by selling OTM Call to collect a premium if the stock price doesn't rise.
Let's review the profit analysis of buying stocks. A long stock position has a 50% chance of profit. We profit when the price rises and lose when the price falls.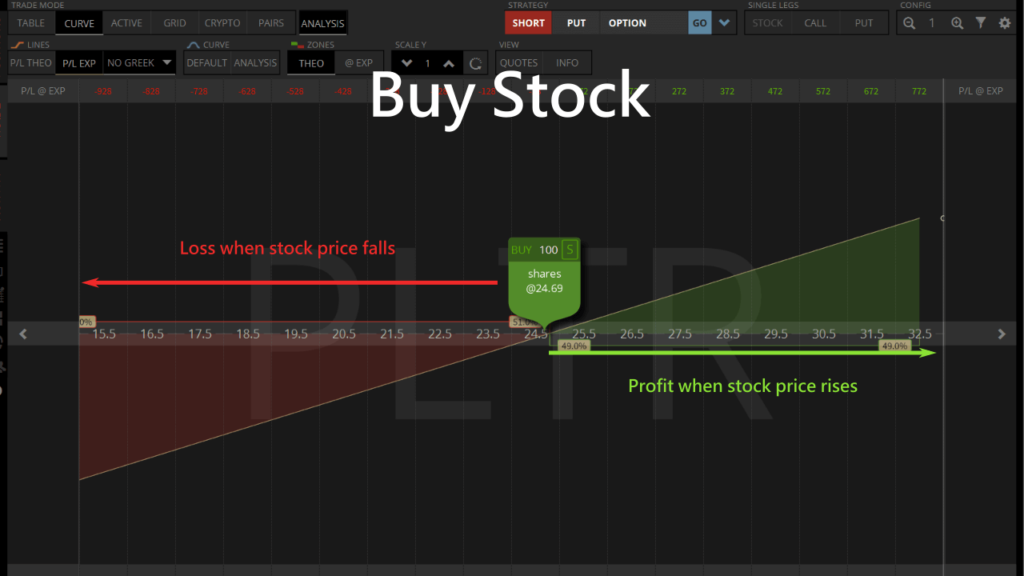 Selling an OTM Call option collects a premium. If the stock price does not increase past the strike price before expiration, the option contract expires worthless and we keep all the premium.
But if the stock price increases past the strike price, the maximum loss can be unlimited.
When we combine buying 100 stocks with selling a Call option, we get a Covered Call strategy. The premium received from the short Call can reduce the cost of the stocks, and increase your chance of profit.
If the stock price increases past the Call strike before expiration, the 100 stocks will be sold at the strike price for a profit to compensate for the loss of the Call trade.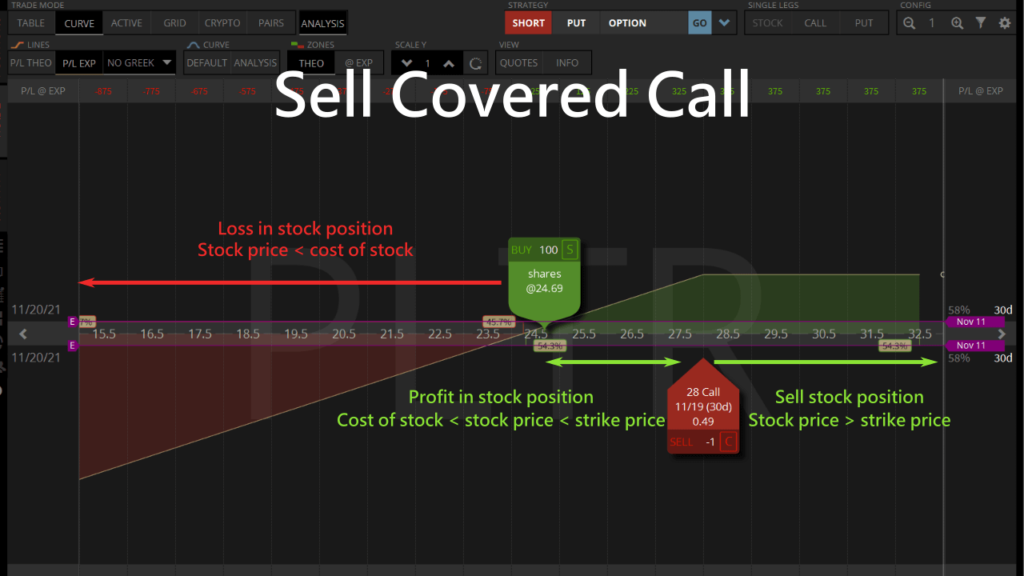 So a Covered Call caps the future upside of the stocks in exchange for the income from selling options.
Why Sell Covered Calls?
If we want to hold onto a stock for the long term, but are afraid of a bearish trend, we can trade the Covered Call to hedge our position.
We can use the PLTR stock as an example. Palantir IPOed at $9 a year ago, and quickly rose to $45, before falling back to the current $24.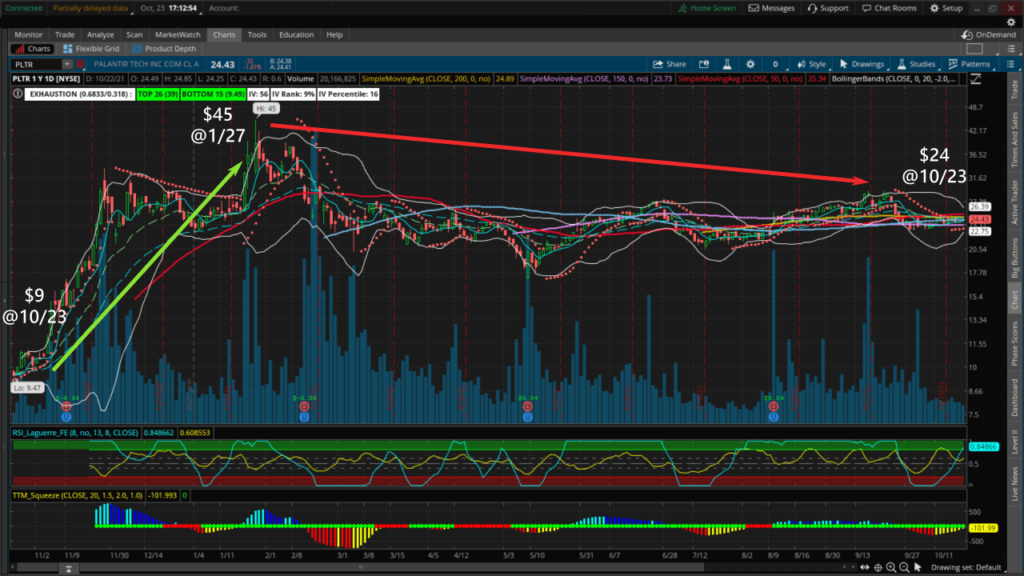 If we purchased 100 PLTR stocks at $45, we would have a losing position now. So we can trade the Covered Call to hedge and collect income while waiting for the stock to rise.
A 0.20 delta short Call at $28 that expires next month can receive $49.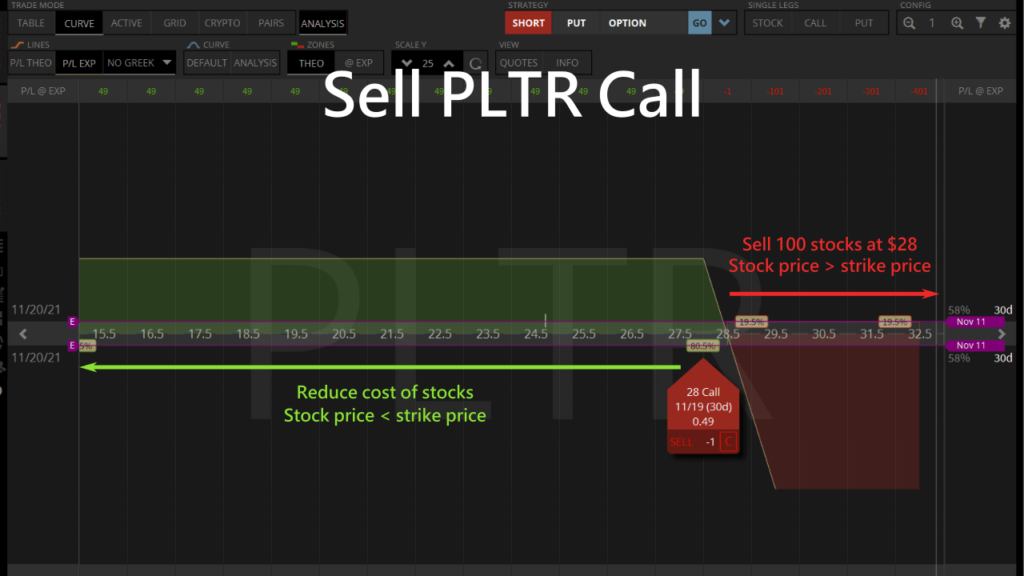 But if the stock price rises past $28 before expiration, our 100 stocks will be Called away at $28 for a loss.
If the stock price doesn't rise beyond $28, the Call option would expire worthless. Then the cost of our 100 PLTR stocks would be offset by $49 to become $4,451. Reducing the cost of each stock to $44.51.
The cost per share will continue to drop as you sell Covered Calls.
| Time | Cost of trade | Cost per share |
| --- | --- | --- |
| 30 days | $4,451 | $44.51 |
| 60 days | $4,402 | $44.02 |
| 90 days | $4,353 | $43.53 |
| 120 days | $4,304 | $43.04 |
You may notice that if we want to make sure we profit from the trade, we need to sell a Covered Call at $45 or higher. This way if the stock price rises past the Call strike, we break even from selling the stocks.
But we find a $45 short Call has only 0.01 delta, so the premium received is extremely low at $3.
Therefore the trick to trading Covered Call on stocks is to find a high delta strike price that gives us a good premium without being breached before expiration.

3 Reasons Why We Don't Sell Covered Calls
Even though the Covered Call is a key part of the Wheel Strategy, but there are 3 key reasons that we don't like to trade Covered Calls:
A Covered Call requires too much capital and has very low returns.
Good dividend stocks usually have poor option premiums.
Covered Calls can miss out on sudden bullish trends of growth stocks.
1. A Covered Call Requires Too Much Capital and Has Very Low Returns
We can see the Covered Call requires the purchase of 100 stocks, which requires around $2,400 of capital investment.
While an ATM Bull Put Spread only requires $51 of Buying Power.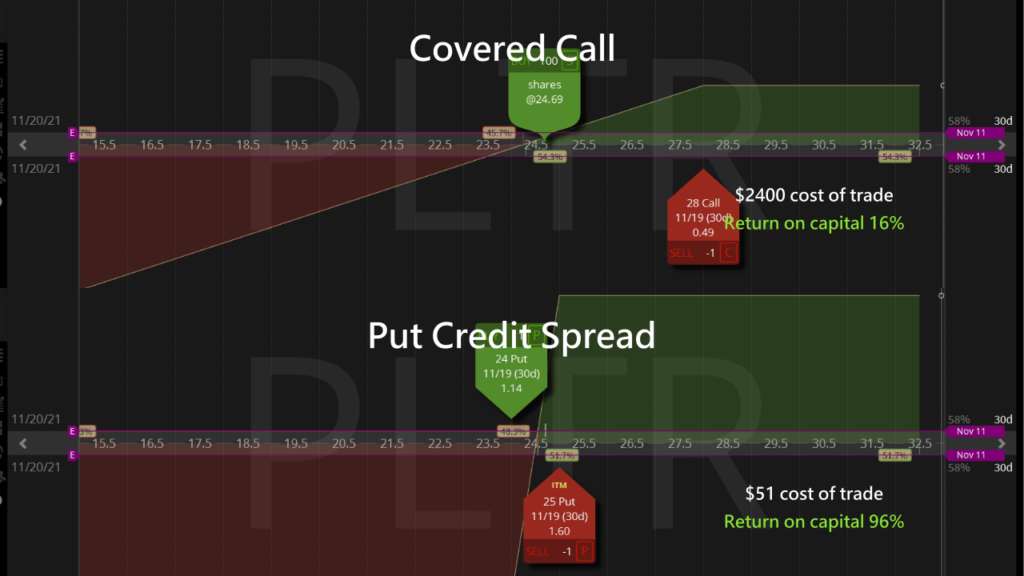 Despite both expiring in 30 days, the maximum return of a Covered Call strategy is 16% while the ATM Bull Put Spread has 96% return.
Then the annualised return of Covered Calls is 192%, while the ATM Put Spread's annual return is 1,152%.
| Strategies | Maximum monthly return | Maximum annual return |
| --- | --- | --- |
| Covered Call | 16% | 192% |
| ATM Put Vertical Spread | 96% | 1,152% |
So there is an opportunity cost of using so much capital to trade Covered Calls for a low return. We recommend trading Poor Man's Covered Calls instead.
2. Good Dividend Stocks Usually Have Poor Option Premiums
Dividend stocks are poor candidates for trading Covered Calls, since dividend stocks or ETFs have lower IV, and therefore receive a lower premium from the Call options.
For example, trading a Covered Call for SPY at 0.20 delta would have a very low strike price, leading to a maximum return of 2.9%.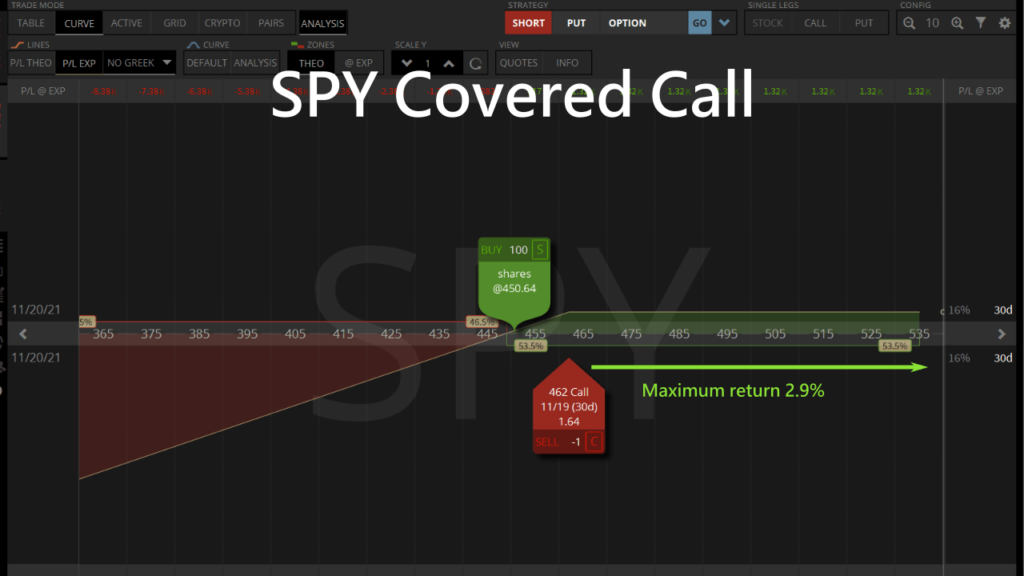 A better strategy is to buy and hold high dividend yield stocks to generate consistent dividend income for early retirement.
3. Covered Calls Can Miss Out on Sudden Bullish Trends of Growth Stocks
If we try selling Covered Calls on a high IV growth stock like TSLA, a 0.20 delta Covered Call has a maximum return of 11%.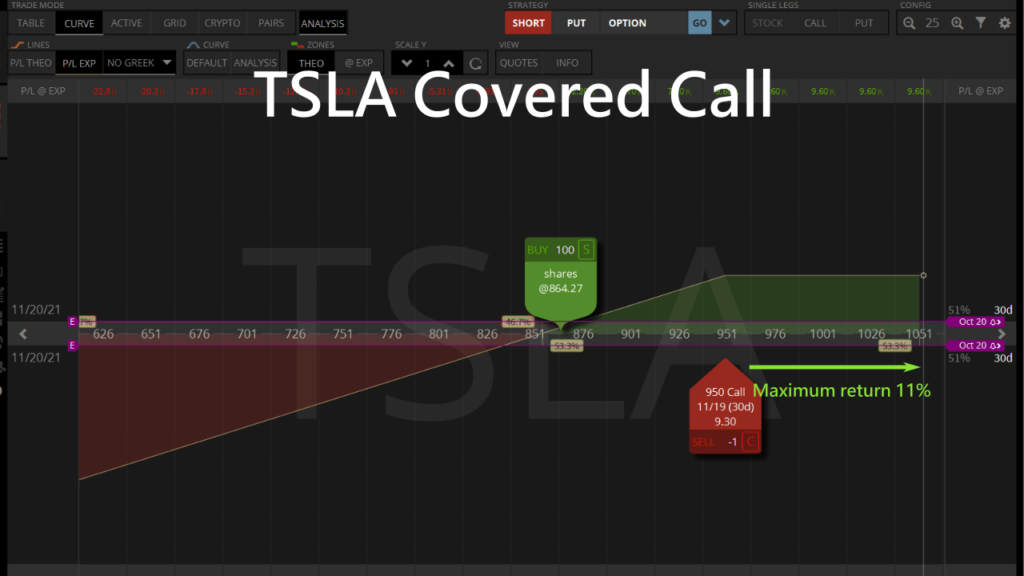 The strike price also gives us around $86 of upside potential.
Which looks good at first, until we realise that TSLA would experience bullish trends that gained $100 in 30 days. Such price bursts actually happened three times in the last year. If we traded Covered Calls for TSLA in the past year, we would have missed the big gains.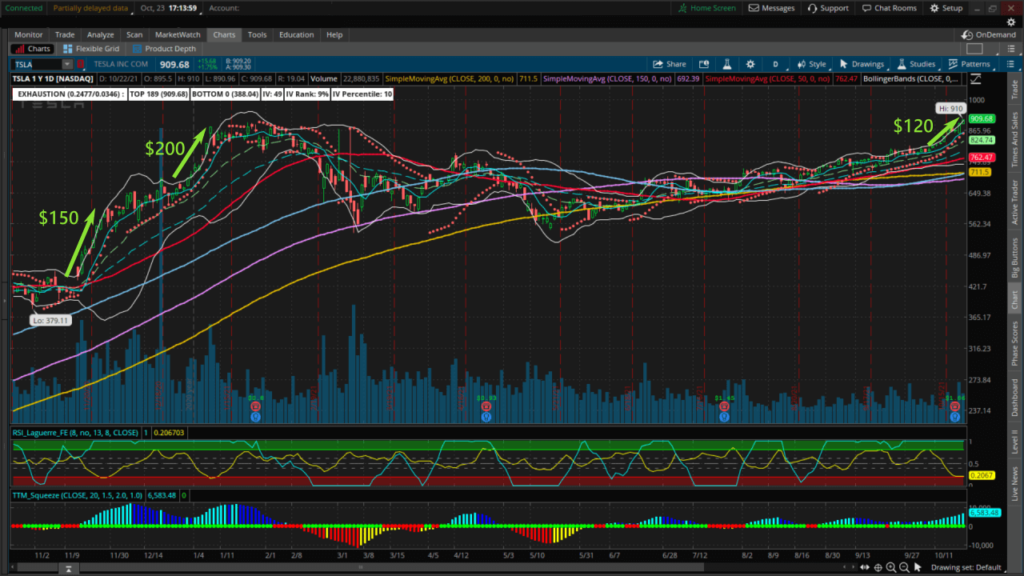 A better way to trade growth stocks is to anticipate bottom out signals and trade Bull Put Spreads.
Best Covered Call Opportunity Right Now
We use the Best Value Stock list to find financially sound, but heavily undervalued companies to sell Covered Call with. Currently the best opportunity is PRGO:
Fundamental analysis shows the stock has 43% upside.
Dividend yield of 2.56% per year.
Long Signal Days shows the stock bottomed out 51 days ago.
A PRGO Covered Call trade needs to combine purchasing 100 stocks and selling a Call that expires in 50 days. The trade earns us $35 in premium.
If the PRGO stock price does not exceed $40, we can keep the premium collected to improve on the buy-and-hold annual dividend yield of 2.56%. In case PRGO rises past the $40 strike price, we earn a maximum return of 11%.
Now you know the basics of trading Covered Calls. You can see despite the low-risk trade, the cost of each trade is very high, has low returns, and we can miss out on big price gains.
So we don't usually trade Covered Calls in SlashTraders' live trading account.
But you can still use the Bullish Value Stocks to find great Covered Calls to trade.
Trending Articles