When we find a great value investment opportunity, we can gradually purchase more value stocks through dollar-cost averaging and accumulate wealth.
Today, we share what value stocks are, and how to find the best value investing opportunities to speed up your journey to financial independence.
What Is a Value Stock?
A value stock is when a company's stock price is lower than the Fair Value, allowing an investor to acquire the stocks at a good deal as part of a portfolio.
The Fair Value of a stock is usually calculated through a fundamental analysis of the company's financial performance. When a stock becomes undervalued, it is a good opportunity for value investors to purchase the value stock.
Value Investing Basics
Apart from choosing undervalued stocks, here are some basics to value investing to find good long-term blue-chip stocks:
Find companies with good corporate governance and company culture that lead to healthy financial performance.
A wide moat means a company has a competitive technological advantage or a strong brand differentiation to maintain industry leadership.
A large margin of safety between the market price and Fair Value means there's enough Upside for us to be comfortable with purchasing the stocks at a discount.

How to Find the Best Value Stock Entry Points?
The Bullish Value Stocks is a list of blue-chip stocks fit for long term investment, and it uses Fair Value to help us find undervalued opportunities. We also use technical analysis to help time the bullish trends.
By sorting the list by Upside, we can find value stocks with the greatest margin of safety. NSANY is the most undervalued stock right now, which is Nissan Motor.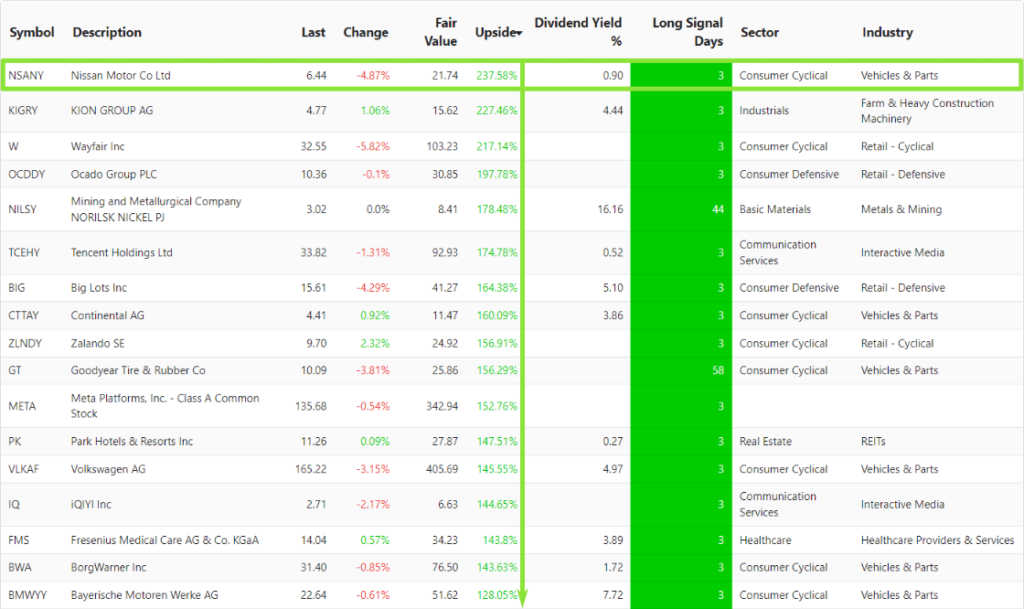 Nissan Motor is one of the top 10 motor manufacturers in the world it is currently heavily undervalued with 238% of Upside potential to the Fair Value. It also has close to a 1% dividend yield per year, making NSANY a good value stock to buy and hold for the long term. The Long Signal Days show that NSANY has had a bullish signal since 3 trading days ago, so now is a good time to enter the bullish trade.
Now you know how to use the Bullish Value Stocks list to find value investing entry points. Remember to use the screener often to buy blue-chip stocks at a discount to accumulate long-term wealth.
Trending Articles